Introducing…..
We're Scotty and Linda and we're Kiwis Flying the Coop.  We're 50 something and this is our window of opportunity to restructure our lives, declutter, rent a storage unit and see as much of the world while we still can.  We're not millionaires, we haven't sold a multi-million dollar business, we just decided that it was more important for us to have a passport full of stamps than a house full of stuff.  We were wishing our week away, counting the days till Friday and those weeks passed alarmingly quick.  We don't want to be sitting in a Rest Home talking about the trips we should have or could have done.  It has taken a lot of planning and sole searching and huge leap of confidence to do what we're doing and not everyone is going to agree that we've made the right choice but it was 'our' choice.
During our massive amount of research into the 'how to,' many of the blogs out there are written by the 20 to 30 year olds or 60+ age group.  We couldn't find any that fitted our age bracket, and although you are only as old as you feel, we thought that we would share as much of our experiences with you to add a different dimension to what is already out there.  We're no longer party animals, rather we favour a drink or two of an evening on some veranda overlooking an amazing view, watching the world go by and once the sun sets…..so do we!
We love to get to know the people and their culture through good food – authentic food can not be replicated anywhere else in the world and the explosion of flavours is like a party in your mouth.  We'll be posting about these experiences through video and photo's as we eat and drink our way across many countries.
N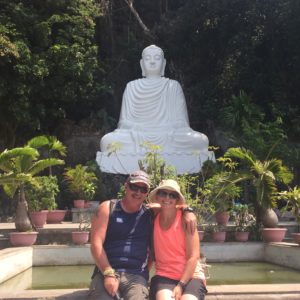 ow we're not exactly on a back packer (more a flash packer) budget, so we are going to have to track what we're spending but intend to fit in as many experiences as possible in the countries we visit.  We have fallen in love with South East Asia from past holidays in Thailand, Bali and Vietnam so we will initially be concentrating our travels in and around these areas.  Who knows for how long but we'll be giving it our best shot.  Come and join us by clicking the subscribe button below for the latest blogs.
You can contact us by clicking here