Ninh Binh or Tam Coc or Trang An
Dilema – Ninh Binh is a province south of Hanoi and it is also a city. Do we stay in the city or do we stay around 7km out in either Tam Coc or Trang An. After researching, we decided on Tam Coc. We are so glad we did.
As we drove closer to the Ning Binh district, we started to see those majestic limestone cliffs jutting straight up out of the ground soaring skyward. I will never get tired of the splendor of these formations. It was very reminiscent of our visit to the Krabi area in Southern Thailand. They are also similar to the marine areas around Phuket.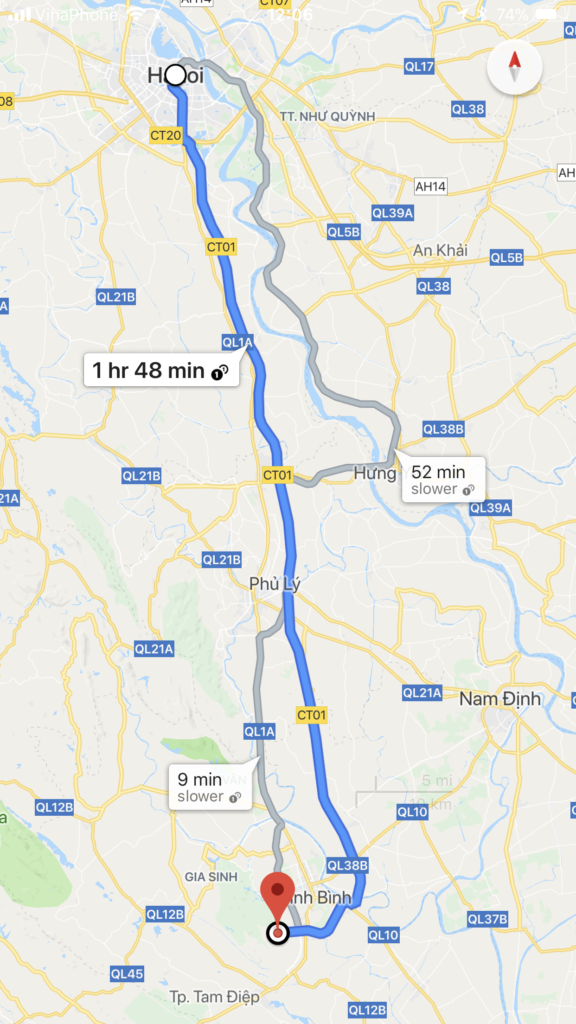 Accommodation
Looking at what there was to do in Tam Coc, we decided to spend at least 3 days in the area. We were booked on the overnight train to Dong Ha which didn't leave Ninh Binh until 10pm so that gave us that extra day whilst only have to book 2 nights accommodation in Tam Coc.
Location, Location, Location is the key
The decision to stay at Tam Coc Lakeview Homestay for two nights was definitely the right one . Our booking was made through bookings.com and it cost us $24nz (including breakfast) per night.
Tam Coc Lakeview Homestay ticked all the boxes for us. Not to be confused with Riverview Homestay next door. Lakeview is so new that it doesn't even have a sign out the front (adding to the stress for our driver when trying to find it). Situated at the far end of the lake, we were away from the hustle and bustle of the little town yet we looked straight out and across the water. We could sit and watch the small boats go past from morning to night. The ladies skilfully rowing their boat loads of tourists by leaning back and feet firmly working those oars back and forth. It was a bit like cycling in a sitting position. I decided my bum and thighs would be a great deal smaller if I took up a job like theirs. (more on this in the video below)
Our homestay had individual chalets and ours offered views directly across the lake. Our hosts would put out the tables and chairs on the opposite side of the footpath, right by the water so we could enjoy our breakfast and night time drinks with outstanding views. (click on video link below for more)
Places to Visit in the Area
The entire area is basically flat so there are a lot of tourists that rent bicycles to visit some of the places of interest close to town.
We opted to hire a scooter from our homestay host as this would enable us to see more of the sights in the greater area. The scooter cost us 150,000VND/$10NZ per day and gave us so much more freedom.
Boat Trips
The boat trips are by far the most popular tourist attraction in both Tam Coc and Trang An (which is approximately 10 km from Tam Coc).
Which boat trip is the best is open for debate and comes down to how much time you have and personal choice.
We did our research on both and decided to travel out to Trang An for our boat experience. Tam Coc departure point was within walking distance to our homestay but we had read that tourists are pressured to buy from floating drink vendors who can be very persistant. The Tam Coc boat ladies also demand that you pay them a tip at the end of the trip. We witnessed this for ourselves and they seemed to be quite demanding.
Pricing wise Tam Coc trip will cost you around 400,000VND/$25NZ (plus 50,000VND tip). Trang An boat trip cost us 300,000VND/$18NZ (and the ladies are not allowed to ask for a tip – so we found out).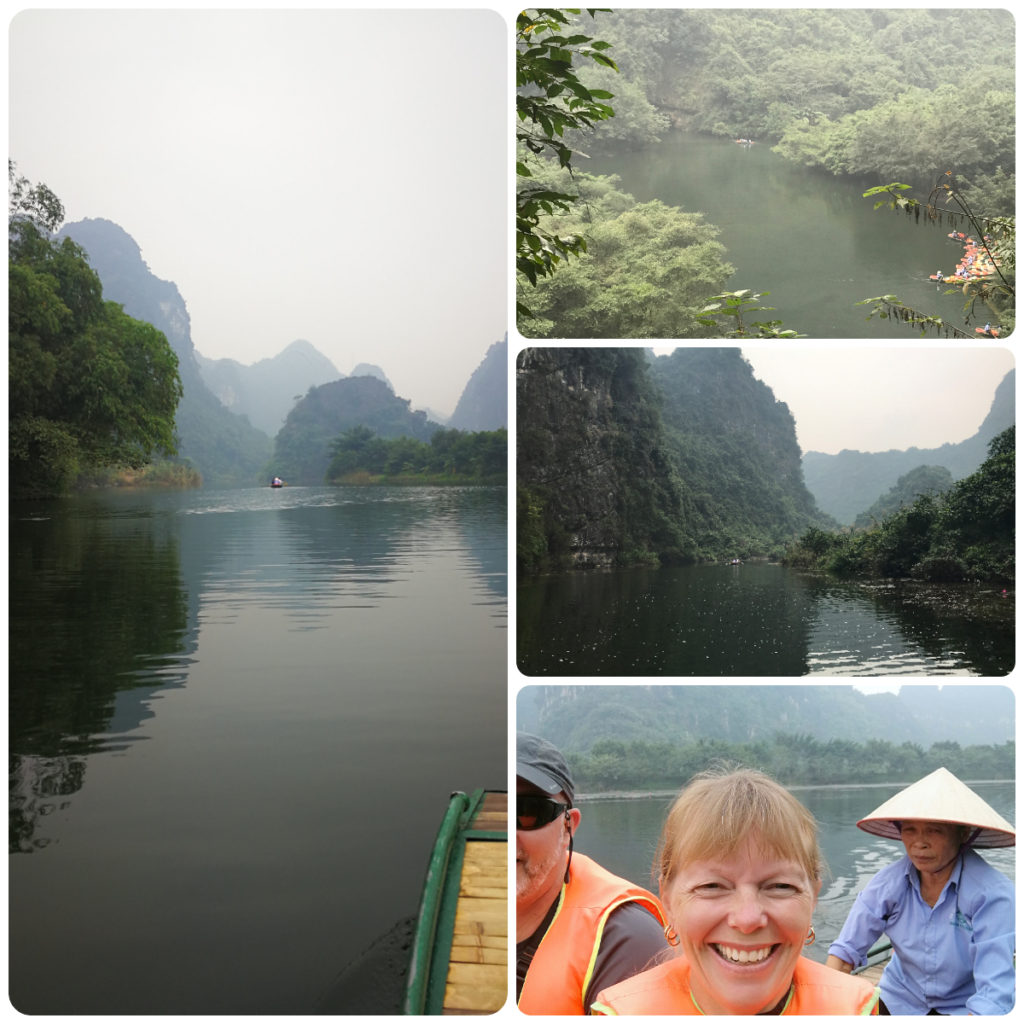 With the limestone outcrops amid the serene rice paddies, the area (which ever boat trip you opt for) is best appreciated on these row boat rides.
There were two routes we could choose from at Trang An, and opted for Route 1 which included 9 water caves. Head space was limited as we had to clamber off our seats to sit on the floor of these tiny boats (not easy for kiwis wearing lifejackets!!). Our boat lady maneuvered the boat through these low, narrow spaces which had been carved out by water. Exiting each of these caves offered us breathtaking vistas of open waters with massive limestone towers stretching skyward, much like skyscrapers.
This is also the area that the latest King Kong – Skull Island movie was filmed.
There were various stop off options and through sign language with our boat lady, managed to indicate which ones we wanted to see.
On the return trip, I think our boat lady was getting a little tired so she pointed to the other oars on the boat. We were teamed up with a young French couple who also took up the oars. Scotty's competitive nature kicked in and for some reason it turned into a race to beat every boat that was in front of us. We were soon motoring through that water. So much so that I could see that our boat lady was having a rest at the back. The other boat ladies we passed had friendly banter with our lady and there were a few laughs between them. Our French team on board also took up the challenge and we pretty much aced it coming into home port.
Hoa Lu
Hoa Lu in the ancient capital of the Dinh and Le dynasties which dates back to the 11th century.
It is located approximately 14km from Tam Coc and took us around 20 minutes to reach by scooter.
As New Zealand is still such a young country, it still amazes us that some of these structures can possibly be this old.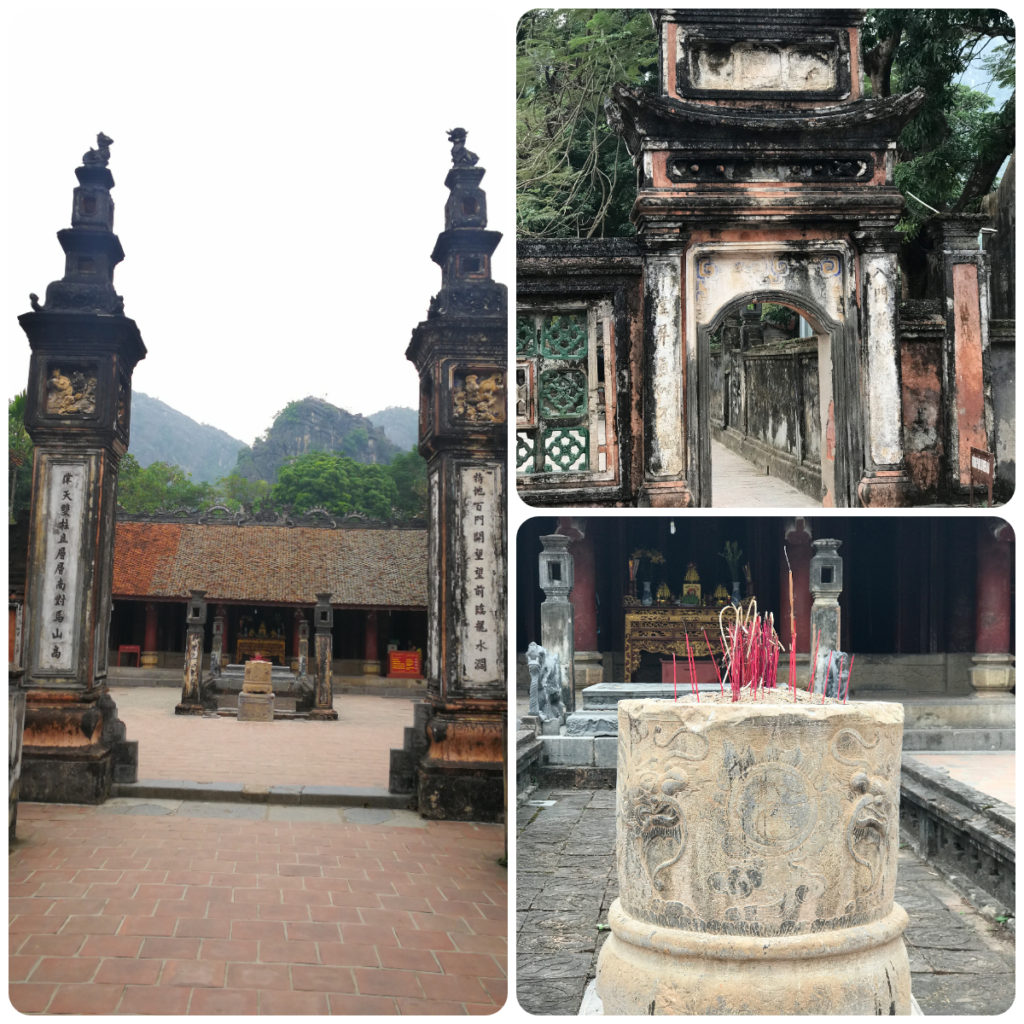 It is a serene and tranquil setting beside the small village of Truong Yen.
However, as beautiful as the surrounds may be, the remains of the original structures are scarce. There are some temples which have been built on the old sites and still made for interesting viewing.
Bich Dong
This is a charming cluster of cave temples is situated a couple of kilometres north of Tam Coc.
The Lower Pagoda is located at the base, from which about 100 steps lead to the Middle Pagoda. There is then a steep ascent to the Upper Pagoda. For stunning views across Tam Coc we had to put some effort in: 500 steps of effort to be precise. We were certainly wowed by the views with reflective rice paddies, glistening lakes and small villages dotted around the landscape.
Hang Mua Peak (Mua Caves)
This is seriously a 'must do' if you ever get the chance to visit the area. It is the highest point and is one of the most spectacular sites – just 5km from Tam Coc.
There are caves at the base but by all accounts they are supposedly underwhelming and an extra entrance fee so we went straight to entrance steps to start our ascent to the top of the mountain.
With more than 600 steps to the top we had a 360 degree view of the entire region. The Red river Delta on the East and the mountains on the other sides.
The stairway is paved but quite steep in sections. A stone staircase zigzags up the steep climb hugging the limestone cliffs. There are two peaks and we made sure we climbed both. One in particular was a bit challenging for my height phobia (see photo above right) and Scotty did have to coach me through a couple of sections.
There is a very impressive dragon right at the top of one of the peaks (see feature photo) which makes for some interesting selfies. I wasn't keen on taking up the challenge as I watched some young tourists perched precariously on some dangerous looking ledges. That was one photo shoot that I was quite happy to miss out on. Scotty on the other hand scaled the rock face and made sure that he got some great photos.
Bai Dinh Temple
The location of this temple complex was proving a challenge for us to find. We could see the massive structures and the 13 tier pagoda clearly, but the official entrance was eluding us. Even with the help of google maps, we were constantly being directed to the entry for all the construction vehicles, not the main gateway.
After three trips up and down the road, we took a punt and followed some tour coaches through grand gates, on the opposite of the road to where we saw all the structures. Sure enough, we were in the right place.
This massive collection of structures covers an very impressive 700 hectares. To even get to the attractions, you pay 30,000VND/$1.80NZ for a one way ticket on an electric buggy. This transports visitors to the main gateway into the first of many structures.
This huge complex which includes many structures was built over several phases starting 2003 and completed in 2010. The style and architecture follows traditional lines. The original old temple is still in existence along side a newly created larger temple. It is the largest complex of Buddhist temples in Vietnam.
We climbed the bell tower to view the biggest bell we've ever seen. It weighs in at 36 tons and it was very tempting to hit the bell with the massive pole they had sitting there. On the ground floor of the tower is a 70 ton bronze drum – they seem to build everything in super large size around here.
We were astonished at the collection of 500 Buddha statues which were under a covered walkway heading up the hillside. They were all carved out of Ninh Binh stone and all have different positions and gestures. All of them had shiny knees or feet and tummy's as passersby rubbed them for luck. We made sure to rub the Buddha which we thought was symbolizing wealth but steered clear of the fertility Buddha!!!
We eventually made our way past these 500 Buddha's and arrived at the 13 tier pagoda. There was an entrance fee of 50,000VND/$3.00NZ to enter the pagoda for a trip to the top. We have been to many tiered pagoda's but most of them are only 7 tiers. We had come all this way so we thought why not. Although I must say I was dreading the trek to the top of the 13th floor!!
Thankfully, due to its modern construction there was an elevator…..thank God! The gold decorations and adornments on the walls and ceilings made us squint as it was so shiny and bright. The most breathtaking examples of what can be done with modern materials while keep with culture and heritage.
We made our way out onto the circular deck to take in the view. The only downside was that it was an extremely hazy day. It was still quite a panoramic view though from the 13th tier.
Is Tam Coc Worth a Visit?
That is a resounding YES. I would thoroughly recommend you visit this area and stay a minimum of 2 nights. Many trips are available from Hanoi but some are only for a day trip. There is no way that you could fit everything in that you would want to see if you were to stay for a shorter stopover.
We talked with a few other tourists in Tam Coc. Most of them wished they had stayed longer than one night.
Click on the link below to see some more of the action.