We extended our stay in Nam Tok, Sai Yok Noi for a few of reasons. We loved our Yayei Homestay, we had time up our sleeve and there was more places to explore other than Hellfire Pass.
Sai Yok Noi Waterfall in Nam Tok
Possibly the most popular destination and what this area is known for. People travelling from Kanchanaburi to visit Hellfire Pass will stop off at Sai Yok Noi (meaning small). There is also Sai Yok Yai (meaning large) waterfalls, located in Sai Yok National Park.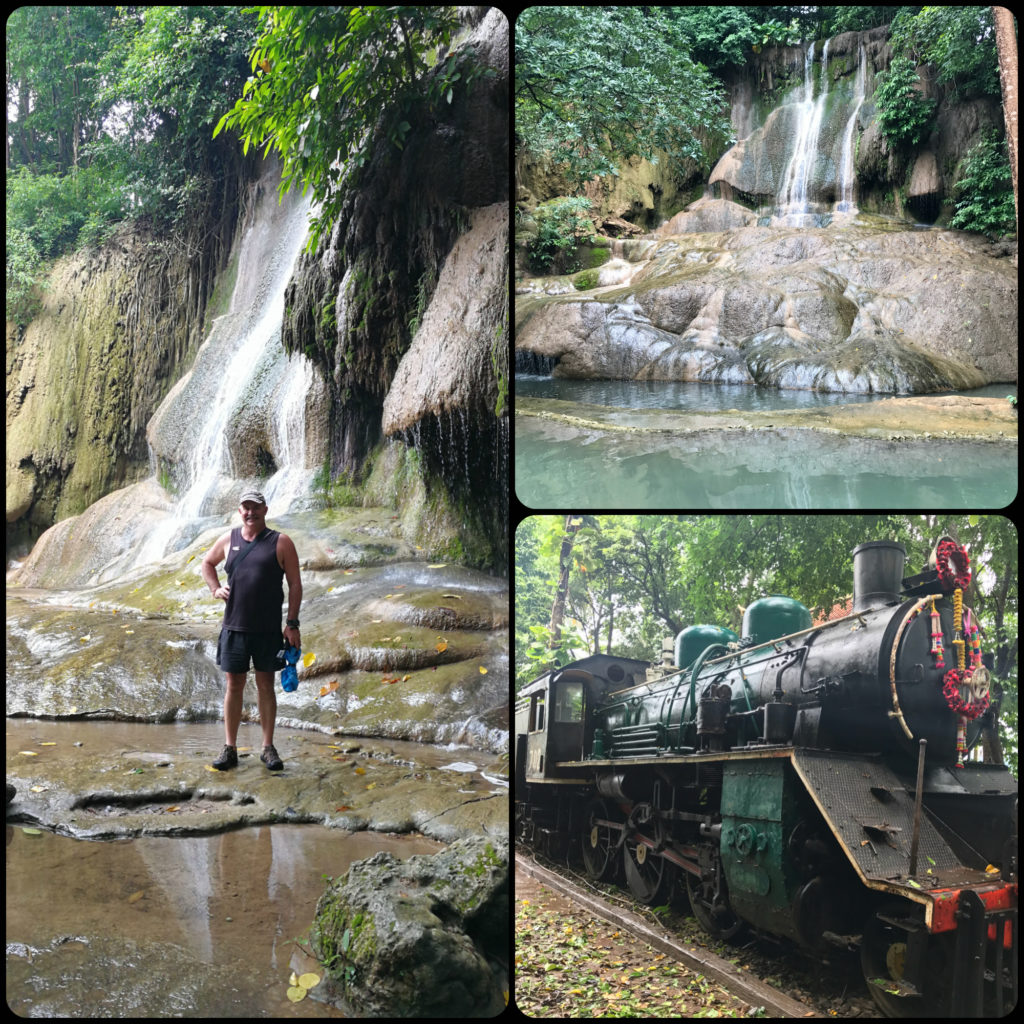 These falls were located only a short walking distance from our lodgings so we took a wander along to see them. Entrance is free so it is a popular destination for passing tour coaches and vans. For this reason, we chose to go earlier in the day to miss the crowds.
The Sai Yok Noi falls are small (as the name suggests) but there is an impressive old locomotive standing proudly by and the park is well looked after and clean.
Royalty used to call in for visits and to cool off earlier in the 20 century.
They certainly weren't the best waterfalls we have been to on our travels but still nicely kept and there is a small pool for people to take a dip.
Tham Krasae Bridge and Cave (Dangerous Curve)
There are many impressive bridges built by the prisoners and labourers along the 415km Death Railway. One of the most laborious feats of engineering was the Wang Pho Viaduct (also known as Dangerous Curve) in the Tham Krasae district.
Amazingly this is still being used today by the daily trains from Bangkok. We travelled along this stretch of track on our way to Nam Tok. The train slowes right down and just idles its way over the precariously perched trestle bridges. The workers had to chip away at the solid cliffs of rock, by hand, to enable enough room to allow the train to fit through.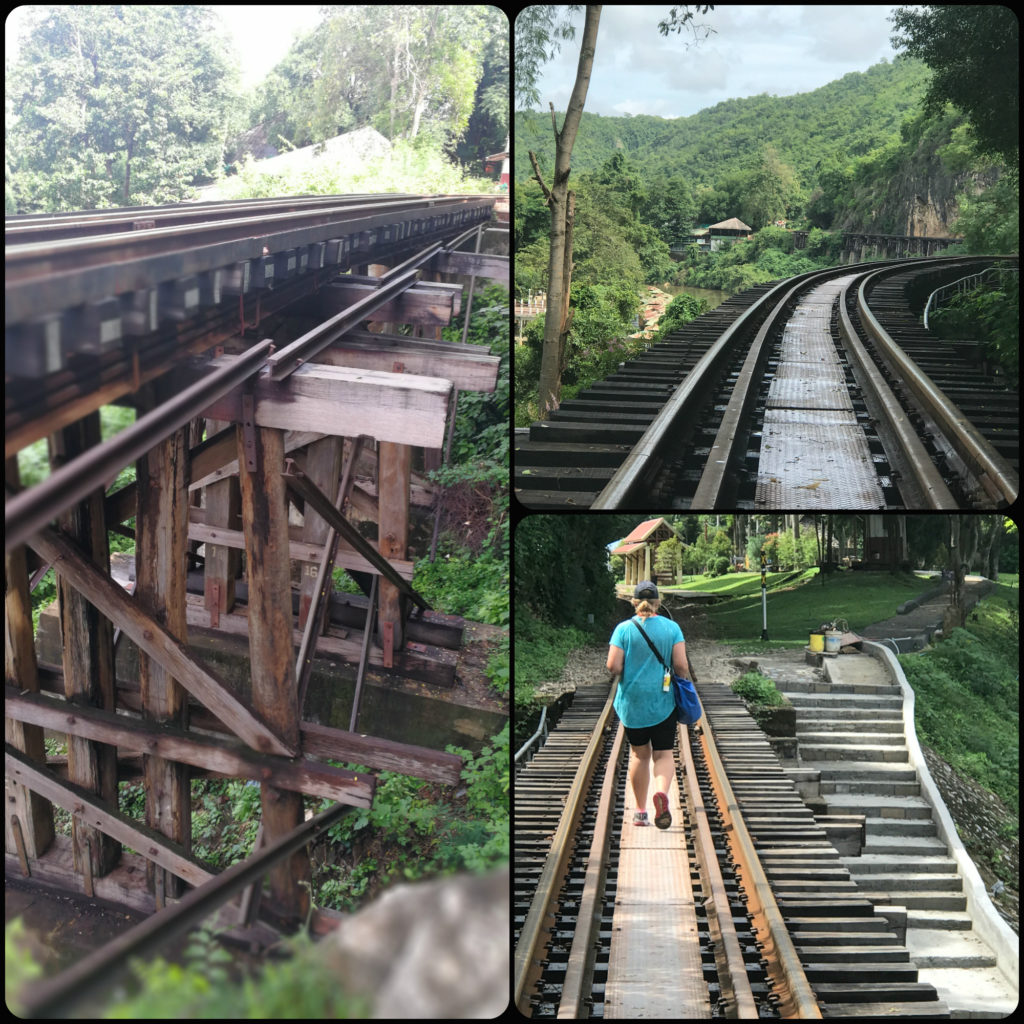 Passengers on the trains have to be careful to keep hands, heads and cameras inside the carriages as is only inches to spare between the train and the rock wall.
The views along the River Khwae Noi (River Kwai) was quite spectacular on this stretch of the track so we wanted to go back to this area and explore the bridges and track on foot.
It was approximately 20km on our scooter back towards Kanchanaburi from Sai Yok Noi and once again we started out early as this is a popular spot for tour groups to be picked up after their ride from Kanachanaburi, specifically to view the Dangerous Curve.
Getting a close up look at how these structures were built was mind blowing. How they managed not only to carve out solid rock by hand, but to construct these trestle bridges to still last over 70 years. This stretch of line was completed in 17 days and 17 nights.
There is also Kra Sae Cave, a temple cave situated within walking distance of the station that we wanted to explore. To get to the cave we walked approximately 200m along the track until we came to the first bridge. The cave is situated right beside the track and overlooks the river. Inside the cave is a large Buddha and is a place of worship.
Captive Cave
Back on our scooter and travelling along the main road we came across a sign which read 'Captive Cave'. We turned around and stopped at what looked like information boards.
The boards didn't really give us much information on the cave itself but we did spot a set of stairs leading up a hill through trees. We took the stairs up the hill which kept climbing up into thicker scrub but we were curious as to where it was going to end up.
We eventually came across this massive cave. Climbing down the stairs into this vast chasm, we discovered that this is where the Japanese would have kept prisoners captive during the building of the Death Railway.
There was not a sole around and we even managed to find the power switch to turn on all the lights which lit up caverns and smaller caves which went deep into the cliff face.
Prasat Muang Singh Historical Park
This historic park was more of a distance from Nam Tok than most of the other attractions. After a 40 minute scooter ride we arrived.
The entrance to the park is the most impressive. A large temple building looms up ahead of you as if still guarding this once large walled city. Entrance fee of 100THB was certainly value for money and goes towards the upkeep of the park.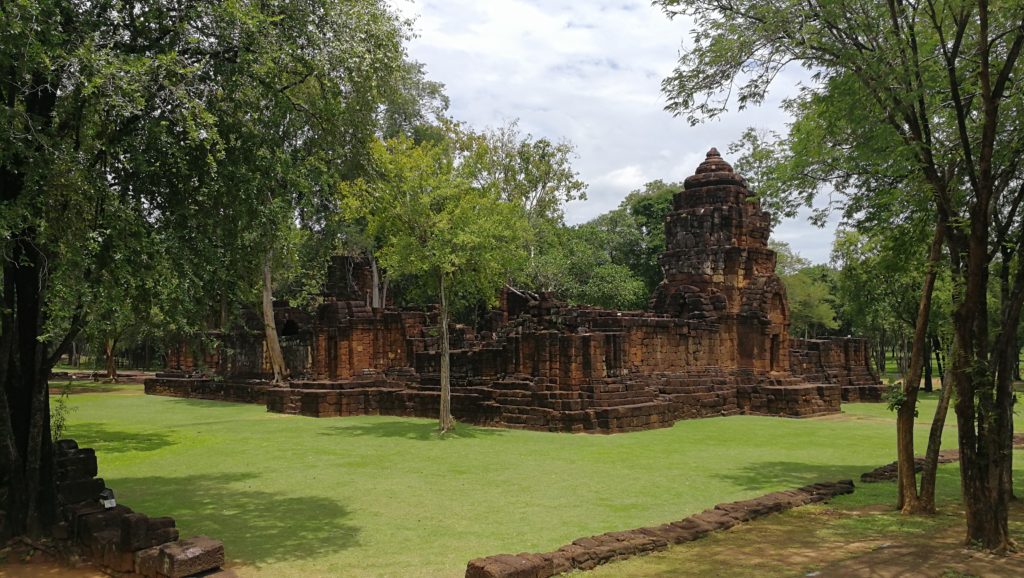 Although the site isn't as complex and populated with ruins as other sites around Thailand, we still enjoyed exploring the park and it was quite deserted which we liked.
It was declared a historical park in 1987 and it protect the remains of two Khmer temples which date back to the 13th and 14th centuries.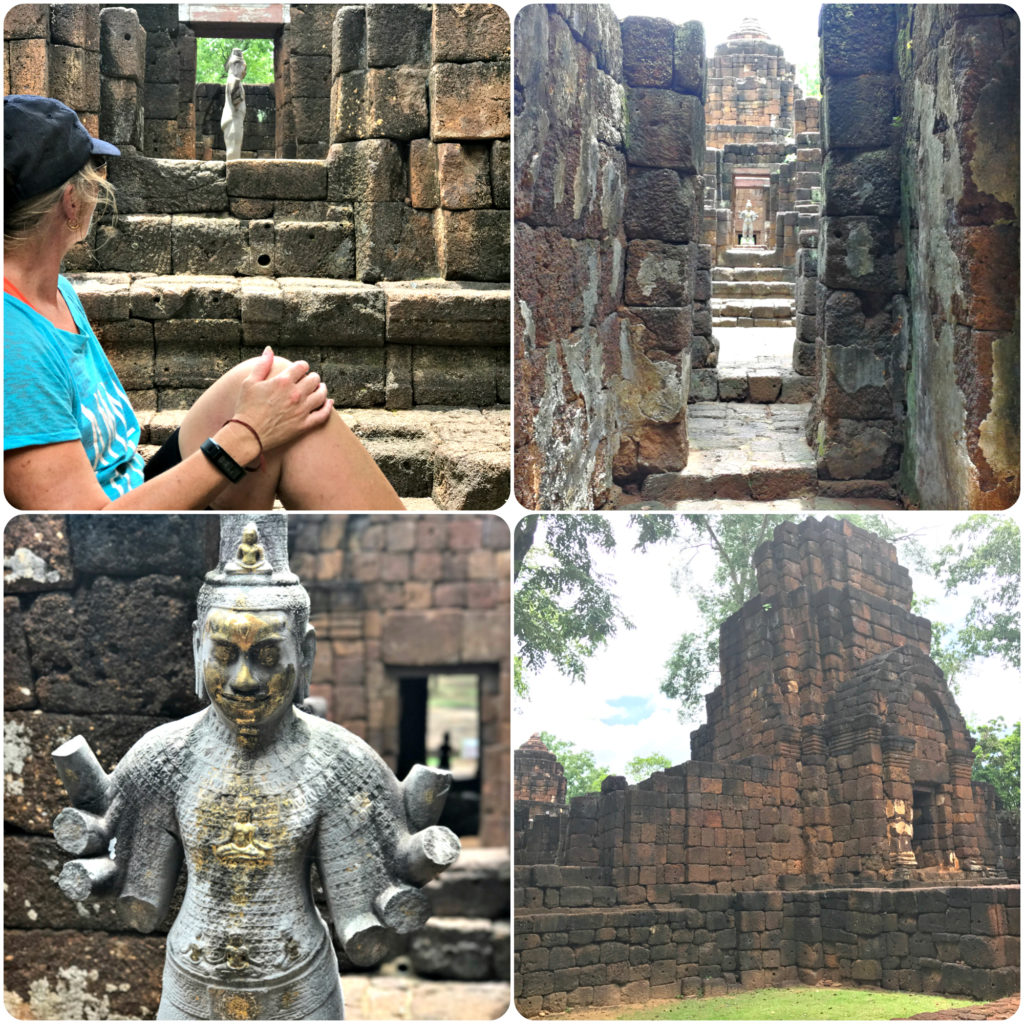 There is also a burial site which displays a couple of skeletons uncovered where they lay. Other skeletons were uplifted and are now on show at the Bangkok National Museum.
What we didn't see
There are a number of national parks in the surrounding area as well as Hot Pools. Some of them were a little too far for a scooter ride there and back and also they charge a 300THB ($12nz) each. It would have also meant another day's scooter hire of 300THB. We weighed up the pros and cons. We have hiked a number of bush trails and seen a lot of waterfalls so for this reason, we felt that it did not warrant us spending a further $37NZ.
If you are wanting to come to this area, you can certainly fill in 4 to 5 days delving into the surroundings of Nam Tok.
Click here if you want to find out what else you might like to see whilst visiting Nam Tok
Click on the link below for a video of some of our highlights.