Revisiting Hue – The Old Ancient Capital
As this was our second visit to Hue, we wanted to spend a couple of nights to either revisit or capture some of the city we missed the first time around.
Now there is so much more to see than what we visited so do your research to sort out where and what you would like to see. Click here for the Wikipedia site for more information.
So Much History in Hue
Since starting out on our journey from Hanoi, we have covered 700km south to get to Hue (pronounced Hway). We are still 1100 km north of Ho Chi Minh in the south.
Located on the banks of the Perfume River, Hue is recognized as a World Heritage Site by UNESCO.
If you are a history buff, or love discovering the Vietnam culture, then Hue should definitely be on your list of places to visit.
In the 18th century it became the country's capital where the Nguyen Lords held the seat of power. It remained the national capital until 1945. The imperial legacy is shown in the fortified city (better known as the Citadel). There are also a collection of tombs and pagodas dotted around the landscape of the modern city which attract tourists from all over the world.
The Citadel
This is by far the most popular tourist attraction in Hue. There are actually 4 citadels-within-a citadel, comprising of the emperor's residence, temples and palaces. There is also the main buildings – all of which are enclosed within a 6m high by 2.5km long wall.
Sadly, what's left is only a fraction of the original complex. The enclosure was badly bombed during the French and American Wars. Only 20 of its 148 buildings survived. It was such a shame to see photos of what once stood on this historical site. The buildings were truly majestic and would have been such a great example of an ancient city of Vietnam. Hue was the battleground for 'The Battle of Hue' or 'Tet Offensive' in 1968, which was one of the longest and bloodiest battles of the American War.
Everywhere we walked, the scars of war dotted the landscape. The impenetrable thick stone walls wore the brunt of enemy artillery as shells and bullets rained down in an attempt to overthrow the Northern Vietnamese Army.
There is still a lot of rubble lying around and some of the sites are overgrown with weeds. Restoration is still very much on going. We visited the Citadel four years ago and we could see where progress has been made during this time. However, there is still so much more to go. All of the reconstruction must be painstakingly slow as they attempt to rebuild every detail as close to the original as possible.
It is truly a fascinating site to visit. As we had been there before with a guide, we only paid the entrance fee of 150,000VND/$9.30NZ each. If it is your first visit to the Citadel, I would recommend paying extra for a guide to show you around. There is so much to take in and signage is lacking in a lot of areas so it is difficult to know what the significance of each site is. A guided tour including entrance will cost 360,000VND/$22.30NZ each.
You will need to set aside at least half a day (or longer) depending on what your level of interest is.
Thien Mu Pagoda
Although one can get a little 'over Pagoda's' Thien Mu Pagoda is still worth a visit.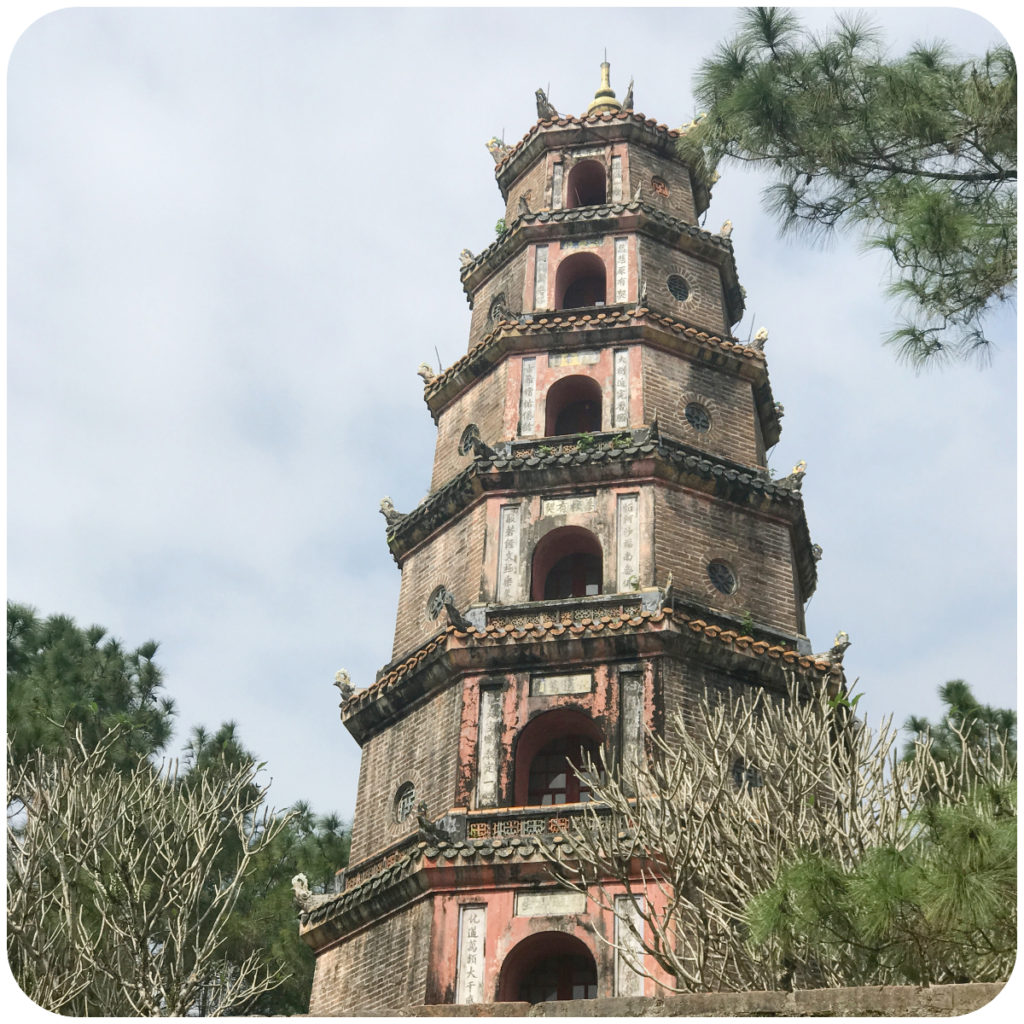 Built on a hill which overlooks the Perfume River, Thien Mu Pagoda is about 4km further on from the Citadel. This 21m high octagonal tower is an icon of Hue. It was built in 1844 and each of its seven storeys is dedicated to a Buddha that appeared in human form. There are also golden Buddha images at the base, an enormous bell which was cast in 1710 and a stone turtle holding a marble stele (slab of stone) which was inscribed in the 17th century. The pagoda still functions as a working monastery.
In 1963 a Buddhist monk, who hailed from this pagoda, shocked the world by travelling to Saigon, pouring a can of petrol over his head, and lighting himself on fire as an act of protest. The image of him, sitting crossed-legged on the pavement, rocking back and forth in mediation as he was consumed by flames was broadcast on American Television. The Austin motor vehicle he used to drive down to Saigon is on display in the monastery.
The weird thing was when they collected his charred remains, his heart was still whole!
Location Counts
We were originally booked into an AirBnB for our two nights accommodation. Our host messaged us prior to our arrival to say that the room we booked had been flood damaged a couple of weeks prior. He did however have another room identical to our original booking. Thinking that it would okay, as it was the same we didn't think too much of it.
Our guide from Dong Ha, spoke directly with him on the phone to get directions. Instead to stopping at a location close to the river (as per our booking) we were taken down a small alley. We were somewhere in the back of beyond.
After viewing the room, I politely indicated to our host that this was not identical to what we had booked. It was certainly not in a location that we wanted to be in.
Although we were initially annoyed, he and his brother were so helpful. They offered us a couple of alternatives to try. They then booked and paid for a taxi to get us to our new accommodation.
We ended up staying at the Cherry Hotel. This is a new boutique hotel. It was a fraction more than what we were going to pay on AirBnB for a room in someone's house. It cost us 495,000VND/$31NZ per night (including breakfast). And even better, we got a full refund immediately from AirBnB. I was concerned that we would be charged a cancellation fee. I was relieved when I received a phone call from them to confirm our refund in full.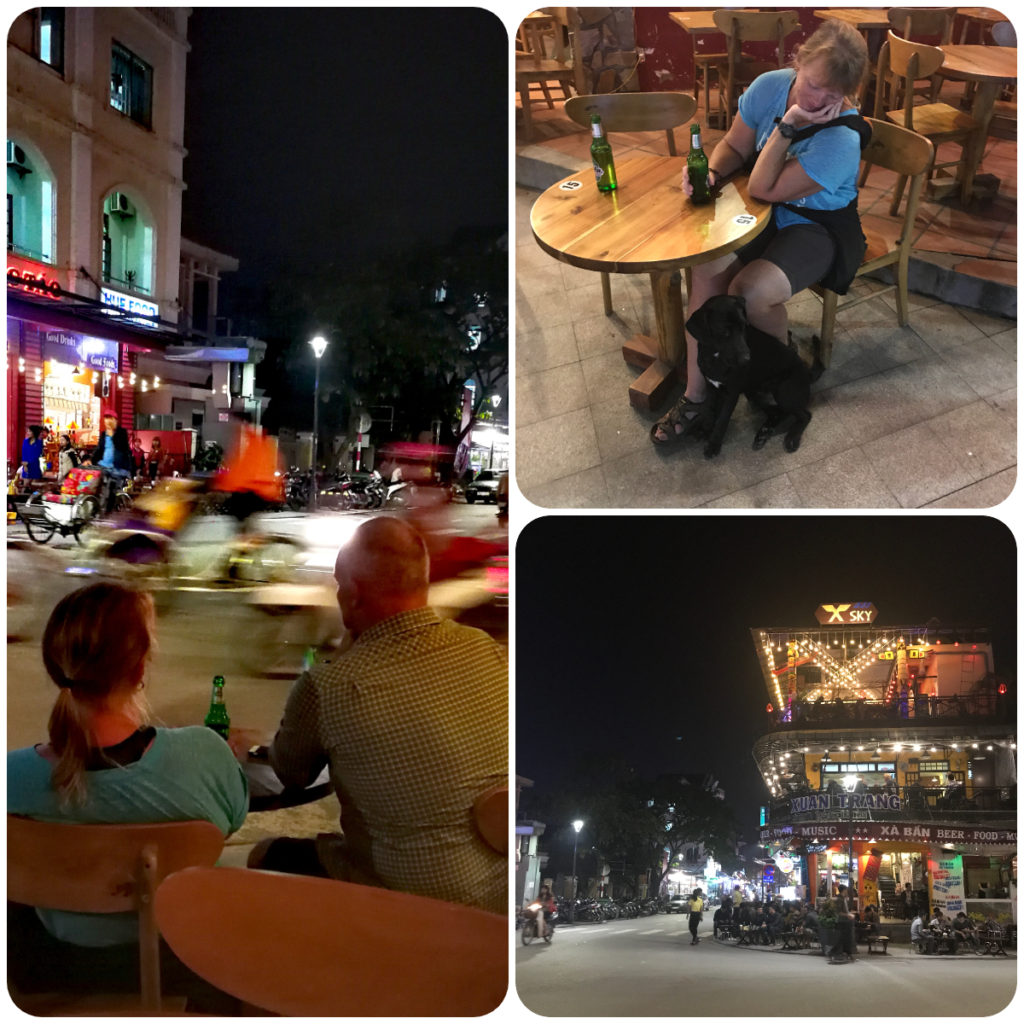 The hotel was in a great location, walking distance to the Perfume River, Dong Ba Night Markets, Trang Tien Bridge and many bars, restaurants and local street food options (always our favorite).
Click on the link below for highlights of our stay in Hue.